---
KKK Single Turbo Stage 2
544 HP
---
Dyno Power Results

Our project 94' RX-7 was put on the Dynojet. We installed a

race ported fully built 13B REW engine and removed all of the factory emissions then installed a custom built fuel system with our Ultimate fuel pump , fuel pressure regulator, larger fuel injectors along with our underdrive power pulley set, 304 stainless steel

catback exhaust system, midpipe with silencer and

tuned A'PEXi Power FC.
To hold all of this abuse, we opted for one of our
ACT Xtreme clutch / 9.5 # flywheel sets.
At 19+ PSI boost it produced 544 Horsepower with 447 ft. pounds of torque on gas.
---
Update 9-26-01
Thanks to all of the people who where interested in this dyno sheet we put up last week.
We have been inundated with numerious e-mails and phone calls regarding this and we thought that we could respond to all of the questions by listing all of the specifics that have been to the project 94'. This is the car that may be destined to the " Street Class " DOT tire catagory.

Project 94' HP Specs
(added to all of the things listed above )
---
13B race ported fully built StageV Engine
All smog removed / filled & welded holes
KKK Single Stage II Turbo Kit
Flowed equal cfm intake manifold system
75mm intercooler mandrel tubing
Air / water intercooler
Custom water injection system
High output ignition system
C-16 gasoline
Tested at 19-19.6 psi at 60 degree ambient air temp
Dynojet test done in 4th gear ( 1 to 1 )
---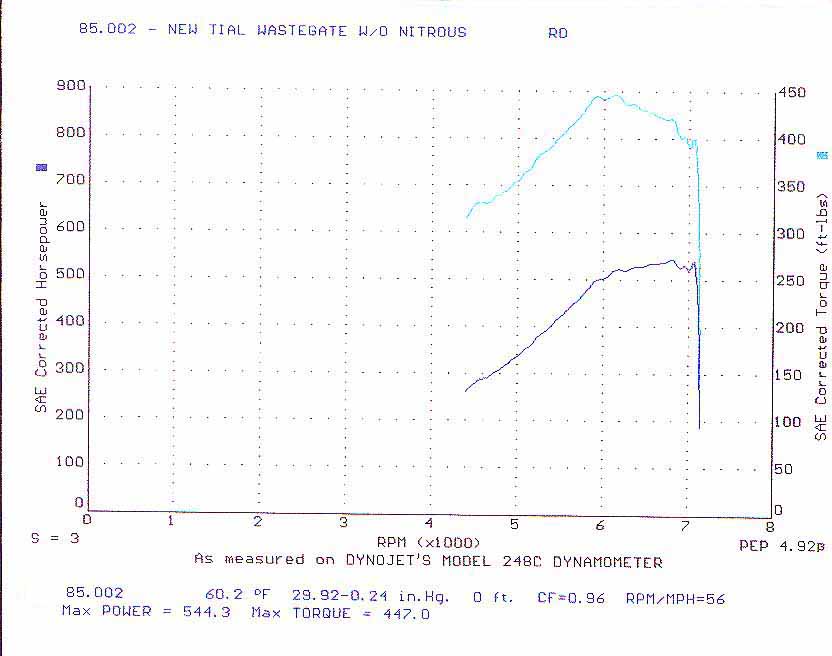 ---