---
Heavy Duty Pressure Plates
Great holding power, better 60ft & 1/4 mile times, and long life are all benefits that come along with these plates. What makes our pressure plates the highest standard of the industry? First, we start off with new units. We do not offer rebuilds (except for special circumstances or warrantee work). Second, we increase the pressure the right way: by changing the diaphragm. The diaphragms are specially heat treated through an exclusive 3 stage process and then hardened on the release bearing contact area to reduce wear. Third, we make sure that the pressure curve and release travel of the unit is in the right working range. Forth, we use proven assembly procedures that insures consistency and precision. Finally, we accurately balance and test every unit we produce. No guesswork, no hype, only proven engineering and calculated results.
---
Extreme Pressure Plates
The maximum holding power available! Our solution: apply more diaphragm pressure. With a less aggressive street disc, this makes a great combination for high HP street cars that prefer smooth engagement. For racing, combine our Extreme Pressure Plate with our race disc for the ultimate in torque capacity and durability. What makes these units so unique is a radical increase in pressure without altering the proper geometry or stacking of diaphragms. The result is maximum holding pressure and long life, while maintaining good release clearance for fast, clean shifting. This can only be done with a specially engineered diaphragm. On some units, like the one shown above, we actually include gusseting the cover to reduce flex caused by the the high pressure. These are made with the same high standard as our heavy duty pressure plates. You will find these on many of the fastest cars on the track. How do they feel? A little stiff, but smooth! Extreme Pressure Plates can be identified throughout the application chart when the pressure plate number is followed by a suffix "X".
---
The clutch disc is a very important part of the system.
We offer a

full faced street/strip organic lining for most applications. It has the highest quality lining available. It will hold a lot of power. For those of you that want the ultimate holding power we suggest the 6 puck ceramic copper race disc. Not for the timid driver, this disc will hold much more power than any other clutch will. We can supply any combination of pressure plate and discs.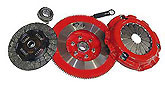 ---
Street / Strip Discs
Organic, spring center replacement disc designed for smooth engagement, quiet operation and improved durability. We offer the best brands for the application. Street discs can be used with moderate to heavy duty applications including racing depending on torque output and heat. View our application chart for more information on torque capacity. Some times a special performance organic disc is available. These discs use special performance linings that are designed to withstand high heat and high RPM. When the suffix "M" appears, the disc has been modified by reducing the marcel enabling quicker action.
---
Copper Ceramic Race Discs
Available in 6 pad design. These pads (pucks, buttons) are highly durable and resistant to heat. They actually perform better when hot! The copper ceramic material holds approximately 32% more torque than an organic lining. Copper ceramic discs engage fairly harsh and are not normally recommended for street use. The high copper content of the material helps to absorb heat and reduce the temperature of the mating parts. Shifting is quick and sure due to the lightweight rigid design. No worries about broken center sections or springs. They are well suited for smaller disc sizes from smaller engines.
---
---
---
Contact Us
Website designed by Brodie Peterson and SRM
Website maintained by SRM.
Site Map
© Copyright 2000 SRx7.com. All rights reserved.