---

As seen in Turbo, Sport Compact Car and Modified magazine
---
Mazda3 and Mazdaspeed3 Clutch Flywheel Package Special

Complete Performance Clutch Package
kit includes our

9.25# aluminum flywheel, Heavy Duty pressure plate, pilot bearing, hardware kit, alignment tool and

Heavy Duty clutch set. (race or street/strip disc)
Fits 2005-2009 Mazda3
Regular $1077
SALE $899 Thru Friday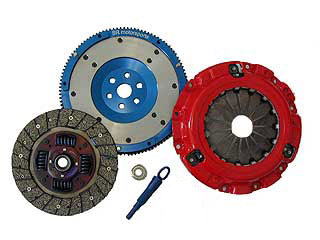 9.25# aluminum flywheel

With the addition of our 9.25# aluminum flywheel , your Mazda3 will have a dramatic increase in acceleration.The addition of our flywheel is the "best bang for the buck for your Mazda3". Very street driveable.Fits 2004-2009 Mazda3. Our flywheels are fully rebuildable, not like disposable steel and chrome moly flywheels which cannot be rebuilt*** We have all rebuild parts in stock. ***Our flywheels are not hard to drive like some of the lighter weight race only units.

Click Picture

***SR flywheels come with custom stepped dowels that cannot ever come loose, or fall out ***
Part Number M3-14189
---
Heavy Duty Clutch Kit

Heavy Duty pressure plate, pilot bearing, hardware kit, alignment tool and Heavy Duty clutch set. (race or street/strip disc)

Fits 2004-2009 Mazda3.
Part Number M3-14190
---
Aluminum Flywheels
Available in a 9.25# pound design for the Mazda3. These lightweight 6061 T6 billet SR Motorsports aluminum flywheels are designed to for the street, track or drag race Mazda3. They free up horsepower by reducing power robbing rotating mass. (The 7 to 8.5 pound racing flywheels that our competitors offer are too light for a street car ) The stock flywheels are 23+ pounds! Shifting is quick and sure due to the lightweight aluminum billet design. ***SR flywheels come with custom stepped dowels that cannot ever come loose, or fall out *** Longer transmission life can also be expected. The high carbon steel content of the replaceable bolt-on heat shield material helps to absorb heat and reduce the temperature of the mating parts.
Throw out bearing $139 ____________________________Part Number M3-13134
Pilot bearing $49__________________________________Part Number M3-13142

---