Mazda3 Cold Air Intake system

Cold air Intake System
This powder coated or mirror polished very strong .125 wall CNC built 6061 billet aluminum and polished 304 stainless steel kit replaces the stock restrictive plastic intake box with a super high flowing K&N type air filter. Our

intake system produced 10+ horsepower on our Project Mazda3 , and is a true Ram-Air Cold Air Intake, **receiving pressurized air into a fully sealed air box from outside of the super heated engine compartment. (Most intake systems are just a cone filter and pipe which grab hot air from around the radiator and the engine , which is why they don't have the same good Horsepower increase that our kit does.) No chance of getting water or dirt into your engine with our system either. Our system is quiet too! No loud funky intake noise.
Our SR Cold Air Intake Billet Aluminum System is also on our Project Mazda3 .
A very nice looking and welcome horsepower addition to your Mazda3. Comes complete with all needed hardware. 15 minute installation time. 100% simple bolt-on with hand tools. Fits 2004-2009 Mazda3.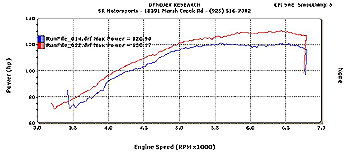 Click For Larger Dyno Sheet
Available In Red, Black and Polished.
Available with or without logo on Intake.
5-Speed 04'-06' 2.0L

Part #Mazda3-8C-K11

---

5-Speed 07'-09' 2.0L

Part #Mazda3-8C-K41

$449

( Red or Black ) **

Sale $399

Automatic 04'-06' 2.0L

Part #Mazda3-8C-K13

---

Automatic 07'-09' 2.0L

Part #Mazda3-8C-K33

$449

( Red or Black ) **

Sale $399

5-Speed 04'-06' 2.3L

Part #Mazda3-8C-K19

---

5-Speed 07'-09' 2.3L

Part #Mazda3-8C-K39

$449

( Red or Black ) **

Sale $399

Automatic 04'-06' 2.3L

Part #Mazda3-8C-K21

---

Automatic 07'-09' 2.3L

Part #Mazda3-8C-K31

$449

( Red or Black ) **

Sale $399

** Polished Intakes add $69