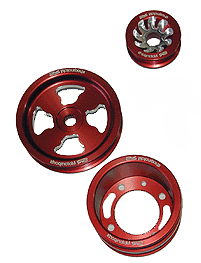 1990' - 2005' Full Pulley Sets
Because of their 15% reduced diameter and lightweight, energy normally used to turn the heavy stock pulley is now used to turn your drive wheels! In addition, the 1990 to 2005 Mazda Miata lightweight aluminum INDIGO GT pulley set ( main underdrive power pulley, water pump pulley, and alternator pulley )is a perfect choice for road racing ,drag racing and autocross due the reduction of water pump cavitation. Horsepower gains can vary between 8-15 hp with our lightweight aluminum pulleys depending on what has been done to your Mazda Miata. Anodized in beautiful Blue and Black colors.
Free horsepower and good looks !
Part Number MT-13128

only
$449
Sale $399
Only 1 at this price!